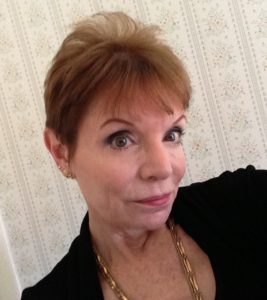 A Short Bio
As a skinny kid growing up in a blue-collar family on the outskirts of Kansas City, I never imagined I'd get a doctorate degree, publish books, have a counseling practice, travel the world, or end up living just minutes outside of Washington, D.C.
My father had a 9th grade education and married my mom right after she finished high school.  She had me at 18, followed by three younger sisters. I loved reading, drawing, and swimming.  I was a good student, so no one was surprised that I was the first person in my family to graduate from college. I paid for college by working summers as a life guard/swim instructor and by taking out National Student Defense Loans.
I married my college sweetheart, a smart young Army officer. We were eventually assigned to Fort Bragg, NC, where for the next five years I worked in state social service programs. By working during the day and going to school on nights and weekends, I added a master's degree in counseling, from East Carolina University, to my bachelor's degree in social work.
My husband took a position with the federal government and we moved to Northern Virginia in 1977.  I took a job with a small federal contracting firm working on research and development projects for the Department of Defense. In 1980, I sat for the state boards, becoming a Licensed Professional Counselor.
Although I liked my colleagues, I knew I didn't belong in a corporate culture. The salary was good enough to pay for vacations all over the world. Nevertheless, I wanted to work in mental health. Like Andy in the Shawshank Redemption, I burrowed my way out.
For the next 19 years I led a double life. By day I worked as project manager. On nights and weekends I earned a doctorate degree and obtained certification as a Clinical Hypnotherapist and Master Practitioner and Trainer in Neuro-Linguistic Programming (NLP). I began free-lance writing, publishing in professional journals, magazines, and eventually on the Internet via articles and blogs. Through Toastmasters International I won several speaking competitions and held leadership positions, earning the title Distinguished Toastmaster.
I started a part-time practice, getting referrals by teaching adult education. In my spare time, starting in 1992, I became an Associate Trainer with the American Hypnosis Training Academy, training mental health professionals in hypnotherapy and NLP. In 1997, I became Executive Director of the National Board for Certified Clinical Hypnotherapists.
In 2000, I switched companies and, for the next four years, worked as a Project Manager/Writer on an Air Force outreach contract to small businesses. I doggedly managed to continue writing, teaching, and counseling on nights and weekends. In 2004, my life turned around.  I married a handsome, outgoing US Navy Captain. I left corporate work for good. Today, John is retired and we are both active in the Naval Order of the United States. John has also become a sought-after speaker and author of books on Navy history.
From 2004 until 2016, I managed Motivational Strategies in Springfield, VA, a solo practice providing NLP-based counseling and hypnotherapy. I was also a provider to a number of Employee Assistance Programs and veterans' programs. I published three books with an international publisher, Crown House Publishing of Wales: In 2017 I decided I needed a change of pace from a full-time counseling practice.
I decided to do the three things I love the most:
Coaching professional people in improving their communication skills, with an NLP-based approach to writing, conversation, and public speaking.
Providing peer coaching to life coaches and mental health counselors who want guidance with applying NLP in clinical settings.
Free-lance writing and editing.
Here is my Amazon Author Page and here is my author page in the Crown House Publishing Catalog. I've published over 250 articles and reviews, including a number of articles in The Toastmaster magazine. Here is the most popular one: Reframing the Three Fears About Public Speaking. You can see more of my articles on my author page on EzineArticles.