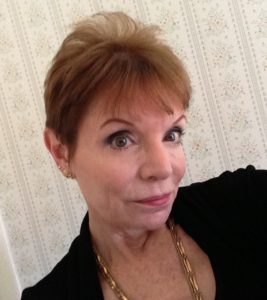 A Short Bio
As a skinny kid growing up in a blue-collar family on the outskirts of Kansas City, I never imagined I'd get a doctorate degree, publish books, have a counseling practice, travel the world, or end up living just minutes outside of Washington, D.C.
My father had a 9th grade education and married my mom right after she finished high school.  She had me at 18, followed by three younger sisters.  I loved reading, drawing, and swimming.  I was a good student, so no one was surprised that I was the first person in my family to graduate from college. I paid for college by working summers as a life guard/swim instructor and by taking out National Student Defense Loans.
I married my college sweetheart, a smart young Army officer. We were immediately assigned to Fort Huachuca, AZ, and eventually to Fort Bragg, NC. For the next five years I worked as a social worker and a counselor in a center for emotionally disturbed children, and on a childhood testing project for the state department of health. By working during the day and going to school on nights and weekends, I added a master's degree in counseling, from East Carolina University, to my bachelor's degree in social work.
My husband took a position with the federal government and we moved to Northern Virginia in 1977.  After a short stint in a government agency, I took a job with a small federal contracting firm working on research and development projects for the Department of Defense. In 1980, I sat for the state boards, becoming a Licensed Professional Counselor.
Although my coworkers were likeable and professional, I knew I didn't belong in a corporate culture. The salary was good enough to pay for vacations all over the world. Nevertheless, I wanted to work in mental health. Like Andy in the Shawshank Redemption, I burrowed my way out.
For the next 19 years I led a double life. By day I worked as project manager. On nights and weekends I earned a doctorate degree from Catholic University and obtained certification as a Clinical Hypnotherapist and Master Practitioner and Trainer in Neuro-Linguistic Programming (NLP). I began free-lance writing, publishing in professional journals, magazines, and eventually on the Internet via articles and blogs. Through Toastmasters International I won several speaking competitions and held leadership positions, earning the title Distinguished Toastmaster.
I started a part-time practice, getting referrals by teaching adult education. In my spare time, starting in 1992, I became an Associate Trainer with the American Hypnosis Training Academy, training mental health professionals in hypnotherapy and NLP. In 1997, I became Executive Director of the National Board for Certified Clinical Hypnotherapists.
The next few years were difficult, with several setbacks, including a divorce, injuries from an auto accident, and Chronic Fatigue Syndrome due to exhaustion.  I switched companies and, for the next four years, worked as a Project Manager/Writer on an Air Force outreach contract to small businesses. I doggedly managed to continue writing, teaching, and counseling on nights and weekends. In 2004, my life turned around.  I married John Rodgaard, a handsome, outgoing US Navy Captain. I left corporate work for good. Today, John is retired and we are both active in the Naval Order of the United States. John has also become a sought-after speaker and an author of books on Navy history.
From 2004 until 2016, I managed a busy private practice, Motivational Strategies, Inc. in Springfield, VA. During that time, I published three books with an international publisher, Crown House Publishing of Wales: In 2017 I decided to close my practice to have more time for writing, speaking, teaching, and travel.
Here is my Amazon Author Page and here is my GoodReads page. Here is my author page in the Crown House Publishing Catalog. I've published over 250 articles and reviews, including a number of articles in The Toastmaster magazine. Here is the most popular one: Reframing the Three Fears About Public Speaking. You can see more of my articles on my author page on EzineArticles.